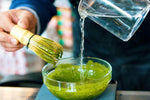 Matcha offers you the peace of mind that you're giving your body incredible health benefits. Not only will you get antioxidants and chlorophyll - you'll get achieve a more natural energy boost while ramping up you metabolism. 
Now, you can say goodbye to the 2 pm crash. 
Forget about feeling so wired you can't even sleep at night from all the synthetic caffeine of typical energy drinks.
Matcha is your answer for pure - clean energy. You can drink your matcha knowing you won't get jittery or experience a crash. And without feeling guilty about drinking an energy drink. 
That's becuase naturally occurring caffeine and L-theanine in matcha work together to create nature's ultimate productivity elixir to keep you calm and focused.
But, there's one thing...
Many people are missing out on all the transformative benefits of matcha because they don't want to hassle with the perceived difficulties of preparing matcha and using the whisk. 
And matcha can seem a little intimidating to a novice. The storied history and different grades and qualities of matcha can be overwhelming. Read on to take the confusion out of making the perfect cup of matcha tea.
Oh, and you'll learn the little know ways you can ditch the matcha whisk for good.  
But first...the classic matcha and whisk preparation.
A story that started over 800 years ago in Japan. Matcha has been consumed for centuries using traditional practices. 
The classic matcha preparation requires 1-2tsp of ceremonial matcha and around 70 ml of hot, never boiling, water. You don't have to be precise.
You can adjust both your amount of matcha tea powder and the level of water depending on how much matcha taste you can tolerate.
We don't recommend jumping into the deep end right away. Even if you are a heavy coffee drinker or caffeine user, any matcha aficionado will tell you that matcha just feels different. 
The caffeine in matcha is metabolized more slowly by the body. So while 1 tsp is only about 1/4 a cup of coffee worth of caffeine, matcha is good for when you want a slow release of energy over time. 
So take it slow. Matcha really does wake you up! 
Now - here is the next step. Once you have your matcha and water combined together in your bowl, use your traditional bamboo matcha whisk to mix everything together.
To properly mix your matcha, move your whisk in a "Z" pattern rapidly. The faster and harder the better.
You're looking to create a smooth and consistent liquid with small evenly shaped bubbles on top so you can really enjoy all the nutty, vegetal, and umami tasting notes of your favorite ceremonial matcha.
And if all that seems like too much of chore for you - don't worry. You don't need to invest in a special bamboo whisk or hand made matcha bowl to get the major benefits of matcha.  
You don't need all of the pomp and ceremony. You can save your wrist the discomfort. Here is the methods for no bamboo whisk required without sacrificing your incredible matcha experience 
Learn to ditch the matcha whisk
The easiest way to make matcha a part of your daily routine is to put 1-2 tsp of ceremonial grade matcha into a glass of water and stir with a spoon.
High quality matcha should mix easily. And although matcha does not dissolve in water, the goal is to suspend the fine powder into your liquid. So mixing vigorously is paramount.
You can also use your favorite shaker cup. 
Add 1-2tsp of ceremonial matcha to a cocktail shaker or protein shake mixer. Add your desired amount of water. We recommend warm water to help it dissolve. 
And if you're more of a matcha latte fan, feel free to add your favorite alternative milk - almond, oat, macadamia nut, coconut.
Mixed with water or alternative milk of choice. You really can't go wrong. Hot or iced matcha pick me ups are equally as energizing. 
But for an iced matcha latte - you'll pour your smooth matcha mix over ice. An iced matcha latte tastes like a luscious and creamy green smoothie. It leaves you refreshed and renewed so that you can feel really good - especially on a hot day. 
For something a little fruitier, you can add your favorite juice like mango juice for a tropical spin that can resemble your favorite kombucha or flavored tea. The combinations with fruit juices are endless. 
You can even use your blender. 
Mix 1-2 tsp of ceremonial matcha into your blender bowl, berry shake, or acai bowl. Ceremonial matcha will supercharge your blended masterpiece with additional antioxidants and chlorophyll.
You'll get the natural matcha stimulant boost from the caffeine in it too. 
And if you want the quick and easy matcha solution...
You can always just grab a hassle free can of Moontower Matcha. With pure ceremonial grade matcha for the best tasting, smoothest matcha experience without the hassles of mixing or clean up, each 6oz can solves all your everyday matcha needs. 
Buy your case of 12 matcha cans today (say goodbye to the whisk!) at the link here: https://www.drinkmoontower.com/collections/all
Save 20% off your order by entering the code MOONTOWER20 at checkout. 
******
Photo by Jason Leung on Unsplash