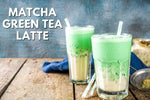 This is how to make the quickest matcha green tea latte ever.
Because sometimes you just need to be quick. It never seems like there is enough time in the day, and you always feel like you could use another hour of sleep.
Efficiency is key.
But what do you do when you're staring at your computer screen after lunch, and you just can't seem to read or send another email or log on to another Zoom call? 
You need a quick energy boost to get you back in the game for the last few hours of the day.
You could reach for a traditional energy drink packed with artificial flavors, colors, and sugar like Red Bull or a Monster...
Or you can grab a conventional soft drink like a Coke or Pepsi, but now you have the same problem except with less caffeine, just a sugar packed mess. 
While coffee may be the go-to, the half life of caffeine is 8 hours.
Meaning that if you drink that cup of coffee too close to your bed time, you're still going to be up staring at the ceiling all night, then you've fallen right back into the vicious cycle of not enough energy and not enough sleep. 
The best choice is a delicious and refreshing matcha green tea latte. 
It's all natural, it has long lasting steady energy, and it won't keep you up all night.
Follow the steps below to make a delicious matcha green tea latte in a hurry. It'll satisfy your taste buds and energy needs. 
Moontower uses only the highest quality, shade-grown, and hand harvested ceremonial grade matcha green tea from Aichi Prefecture in Japan where all of the world's top matchas are grown.
Moontower contains no sugar and no calories for a drink that's as smooth as the ingredients list is clean. 
Step 2: Add A Splash of Oat Milk.
Most baristas agree that oat milk is the best alternative milk to use in a quality latte because it's rich and creamy and pairs well with the natural earthly matcha notes. 
Step 3: Add Ice and Shake.
That's it. Easy as 1. 2. 3. Now it's time to enjoy and get ready to crush the rest of you afternoon workday. 
Make this iced Moontower Matcha Green Tea Latte, take a pic, share it to your story on IG and tag @drinkmoontower so we can share!